Project Overview
The project consists of developing 3 plots No. (C4, C6 & C15) located on Al Reem Island within Najmat Abu Dhabi Project.
Situated in the heart of the Al Reem Island, these developments will have a unique, contemporary architecture. Najmat Abu Dhabi commands a prime seafront position on Al Reem Island, conveniently located a short distance from the city center. It is situated close to the Downtown area while still providing an island lifestyle with its idyllic seafront location.
City center is located just 300m from Najmat Abu Dhabi.
20 minutes from Abu Dhabi International Airport.
Easy access to nearby regional cities.
Provides a convenient shortcut to Dubai.
A high level of personal safety.
With a total plot area of 35,103 square meters, the plots shall be developed into four towers, three residential and one office, of which two are iconic towers.
Size of the Plots
The table below illustrates the size of the plots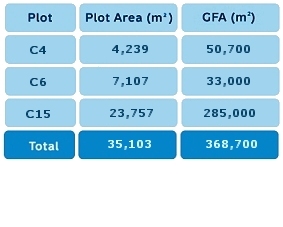 Location & Characteristics of the Plots
The project is located at the south west corner of Al Reem Island and to the west of the main marina of the Najmat Abu Dhabi Project. The plots are strategically situated and have views of the entire Abu Dhabi Corniche.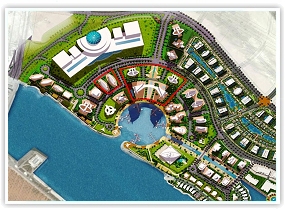 Development Components
The Development Phase entails the development of over 368,700 m2 of GFA, broken down as shown in the following table:

Target Market
The primary segment targeted will be middle to upper income Emirates, GCC residents and expatriates, both living and working abroad as well as in UAE. Being part of Najmat Abu Dhabi and the availability of different- sized apartments further broadens the potential market segment targeted.