Al Reem Island
Abu Dhabi International Airport will be only 20 minutes away by road.Al Reem Island is a natural island situated 300 m off the coast of downtown Abu Dhabi, UAE.
It is one of the 3 current investment zones available for foreigners.
Being located very near the existing central business district has created an attractive investment opportunity for international investors.
Spread across 6.5 million square meters, Al Reem has been planned to accommodate around 180,000 inhabitants living and working on the island.
Water activities will form a major part of the island's lifestyle including sailing, fishing, water-skiing, snorkeling, scuba diving, and more.
The island will be connected to downtown Abu Dhabi by a series of bridges and a connection direct to the main Dubai Highway across nearby Saadiyat Island.
Abu Dhabi International Airport will be only 20 minutes away by road.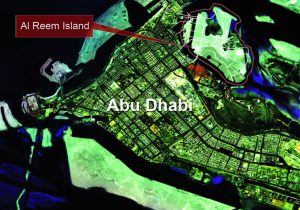 Master Developers at Al Reem Island
There are 3 master developers working concurrently on Al Reem Island:
Tamouh Investments – the largest of the developers, has 60% of the islh land. Their Phase 1 flagship project is "Marina Square", with additional phases including "Marina Cove" and the "City of Lights" development.
Sorouh Real Estate – is a publicly listed company, developing 20% of the island (North-West Corner) in a development called "Shams Abu Dhabi". The project will be a mini-city development and will feature their landmark "Sky Tower".
Reem Investments – is developing the remaining 20% to the East of the island and is not developing land directly; rather, it has concentrated on selling off individual land plots and providing the infrastructure.
The New Master Plan at Al Reem Island
As of 25 October 2007, plots are virtually sold out from the master developers on Al Reem Island in the primary market. Demand is still very high, which is reflected in the increase in GFA pricing for secondary market plots.
Due to a variety of factors, which include Abu Dhabi Municipality, Civil Defense, and the Aviation Authorihity regulations, Al Reem Island has been rezoned and the proportion of Residential, Commercial and Retail space has been adjusted. The major alteration has seen a reduction in the amount of commercial property zoned for development. The immediate result of these changes has been an increase in demand for the available commercial zoned land. For example, a floor of commercial space in Addax Port could be purchased in February 2007 for AED 1,100 per square foot and during Cityscape-Dubai, in October 2007, a similar floor sold for over AED 2,000 per square feet. New projects, such as TAMEER and DAMAC, have been launched in excess of AED 2,000 per square foot for residential, and upwards of AED 2,500 for Offices/Commercial space. This reflects the increase in demand on Al Reem Island from local and international investors. The general feedback from the investor/end-user community to the new master plan has been extremely positive. The increase in green areas and decrease in amount of traffic, noise and other factors has insured an enhanced desirability to reside or work on Al Reem Island. The increase in exposure, created by Saadiyat Island, positioned as the cultural center of Abu Dhabi, has also provided Al Reem with marketing leverage.
Najmat Abu Dhabi Master Plan
At the heart of the cosmopolitan capital and economic powerhouse of the oil rich United Arab Emirates lays Najmat, The Star of Abu Dhabi. Occupying the prime seafront on Reem Island just 300 meters from the city centre, this extraordinary "dress circle" development enjoys spectacular views of Abu Dhabi and the Arabian Gulf.
The entire project has been meticulously and aesthetically master planned by renowned international architects, town-planners and designers, with due respect for the environment. The result is a "total community" with an incomparable level of luxury, balance, harmony, amenity and stability. Investors are presented with an exciting range of seafront plot options, from office and residential to hospitality and retail. The number of Marinas in the Najmat area has been decreased to one. The main Marina is in the first phase of Najmat and is next to the project plots. Except of the plot allotted for the shopping mall, the Iconic towers of plot 22, after the re-planning exercises of Al Reem Island, will be the largest single plot within Najmat Abu Dhabi. Also plot 22 shall have the largest commercial tower within Najmat Abu Dhabi development.