Al-Seef Residential
Living in Luxury and Style
Offering residents a bustling marina lifestyle with all the facilities of a thriving and inhabited community, this G+7 tower has been built to superlative specifications. To add to its already impressive qualities, the expansive layout of the development will enhance the feeling of space and give owners full flexibility in the layout of their home.
Unquestionably exclusive, the plot is ideally located between the thriving marina boardwalk and what will be the premier shopping mall in the emirate. This enviable address gives residents the opportunity to truly redefine the art of living and embrace the vitality of the district.
Project Features:
Luscious green public courtyard
Indoor and outdoor swimming pool
Convenient BBQ area
Health and fitness centre
Adjacent to secure parking
24 hour security and maintenance
Tranquil covered deck and continental cafe
High quality interior and exterior finishing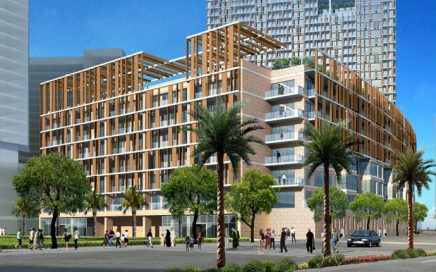 | | |
| --- | --- |
| No of Apts | 338 |
| Height: | 2 Basement plus 7 floors |
| Zoning: | Residential |
The Design Behind the Art-of-Living
A marina is generally the heartbeat of a city – a vibrant and essential focal point. Marina living appeals to a variety of people for many reasons, primarily because dockside life can be enchanting from the terrace of a marina home without having to step foot on a boat. This prestigious lifestyle is readily available through the Dar-Al Dhabi development.
Utilising state-of-the-art architecture to maximise the density of the developments, the Dar Al-Dhabi towers are also visual masterpieces and are due to establish themselves as local and regional landmarks. Designed for both business and pleasure this development will offer the perfect mix of peace and tranquility while being aptly located close to the bustle of the Marina promenade. The development reflects the strategic thinking, meticulously planned infrastructure and state-of-the-art amenities that is establishing Abu Dhabi as one of the most sought-after places in the world for luxury living.